See, Do, Repeat is loved by leaders
"What I found most interesting was the tangible processes for learning how to ideate and discover opportunities. The book describes real, practical advice for today's entrepreneur."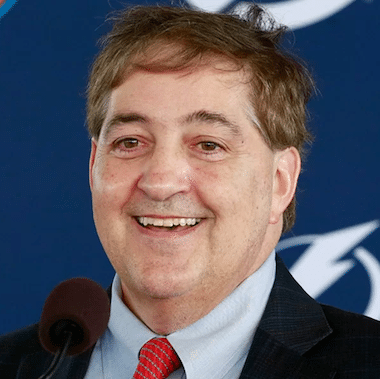 Jeffrey Vinik | Owner of the Tampa Bay Lightning
"The human aspect of this book involving mental preparedness, thought incubation, positive mentality, and gratitude harvest the fundamental skills of success."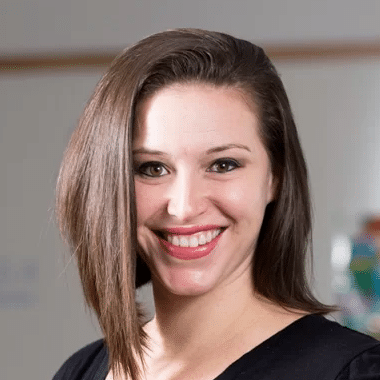 Dr. Jacqueline Darna N.M.D | CEO and Inventor of NoMo Bands
"Dr. White's book captures the true essence of the entrepreneurial journey and unlocks the keys to true success along the way. I wish I had read this book earlier in my entrepreneurial career!"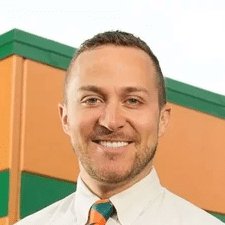 Nick Friedman | Co-founder, College H.U.N.K.S Hauling Junk
"Entrepreneurship is as much a business challenge as it is a mental one. Dr. White's new book provides the data for the discipline required to achieve the extraordinary every day."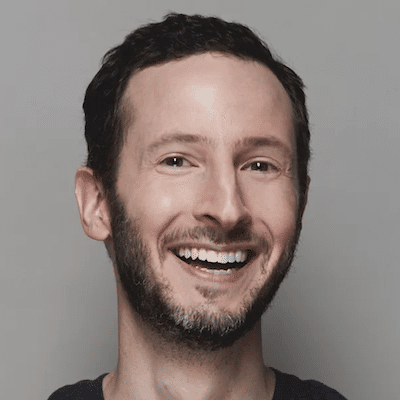 Jason Feifer, Editor in Chief Entrepreneur Magazine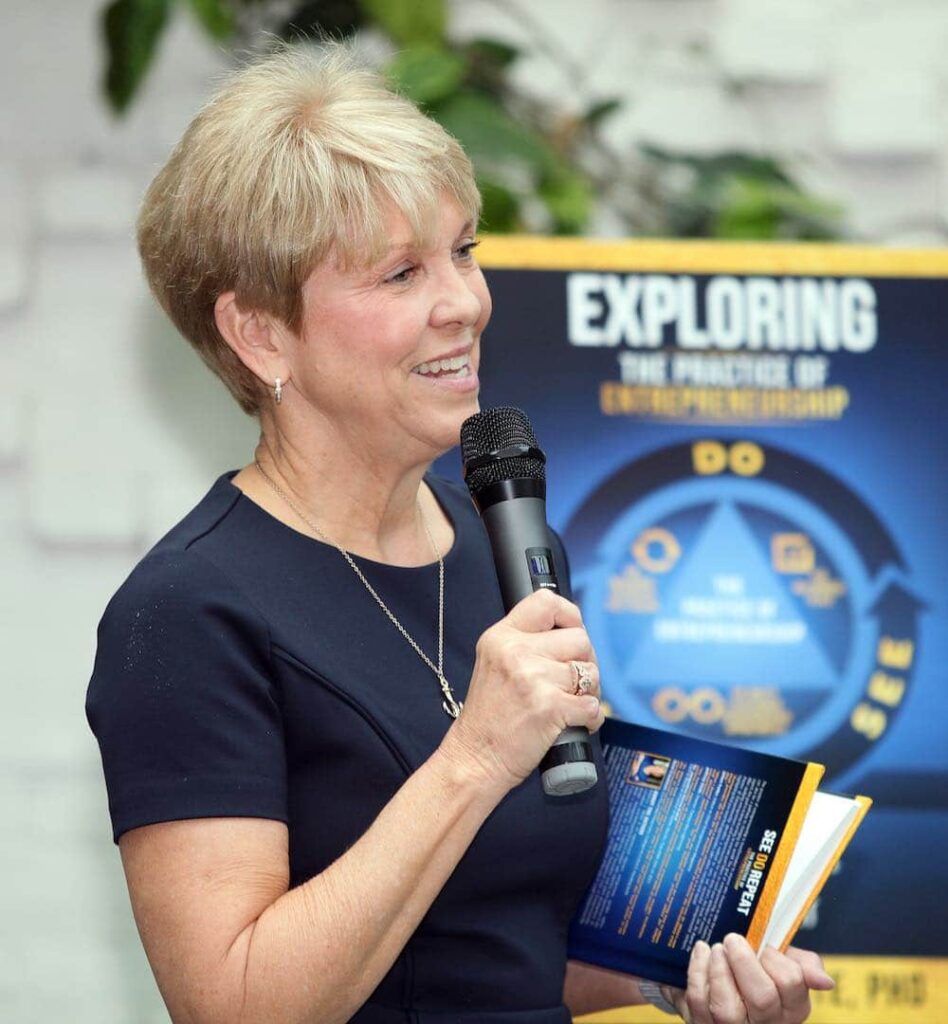 Meet Dr. Rebecca White
Award-winning professor, advisor, entrepreneur and author
Dr. White is an internationally-recognized educator, entrepreneur, business consultant, executive board member, and podcaster with expertise in the design, management and leadership of innovation.
She's past-president of the United States Association for Small Business and Entrepreneurship, and in 2019 was named one of the Most Influential Board Members in the United States by Women Inc. She is Director of the John P. Lowth Entrepreneurship Center at the University of Tampa where she also holds the Walter Chair of Entrepreneurship.
Through her books, workshops and speaking engagements, she translates her research on innovation and talent development into deeply practical tools that help founders, business owners, and top management teams build extraordinary value.
In her own words
In the words of a recent reviewer
Read the full review (From the Journal of Entrepreneurship Vol. 31 No. 2 July 2022)
The past few decades have witnessed several books on different aspects of entrepreneurship, creating a new genre of entrepreneurship literature. However, these books often do not seem appealing despite having catchy titles, as most of them are not based on thorough research. At the same time, the research-based books use such intense academic language that they stand apart from the common readers. In this context, Rebecca White's book See, Do, Repeat: The Practice of Entrepreneurship comes across as a fresh change as it is a winner in all grades, such as an alluring title, a thorough research base, an easy-to-read language, and above all a competently crafted practical approach …. it is an essential handbook and a practical road guide for those who desire to achieve entrepreneurial success.
About the book
Entrepreneurship is a way of life. Much like yoga or meditation, it is not about mastery, but about the practice, that brings transformation and change. A business founder builds and creates, what might become a very successful business, but to be sure, they never stop learning along the way. They continue to practice entrepreneurship, and they grow.
While entrepreneurship is never easy or simple, having a focused way to develop your entrepreneurial practice, can be extremely valuable. In fact, having a curated approach, which can be integrated into everyday life and work, may be the only way someone who is working 24/7 on an entrepreneurial venture, can take the time to improve their practice.
This book is about developing the practice of entrepreneurship. The ability to recognize an entrepreneurial opportunity, the willingness to act on it, and the resilience and perseverance to execute past failure.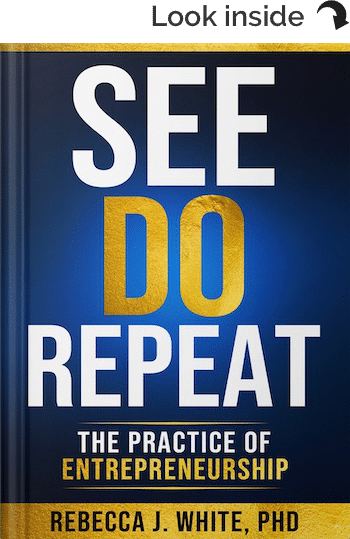 Part I: Seeing
Chapter 1: Opportunity
Entrepreneurship begins with opportunities
Chapter 2: Discovering and creating opportunities
Finding and understanding connections
Chapter 3: Creating value
An opportunity is more than a good idea
Part II: Doing
Chapter 4: Taking Action
Taking the risk and stepping into the unknown
Chapter 5: Your Entrepreneurship Education
Entrepreneurship is about learning
Chapter 6: Building Your Network
Tapping into entrepreneurial support
Part III: Repeating
Chapter 7: Resilience
Preparing for challenges, difficulties, and loss
Chapter 8: Fear of Failure
Reframing failure as a learning process
Chapter 9: Optimism
Staying grounded in a positive future
Chapter 10: Choose Yourself
Making a commitment to you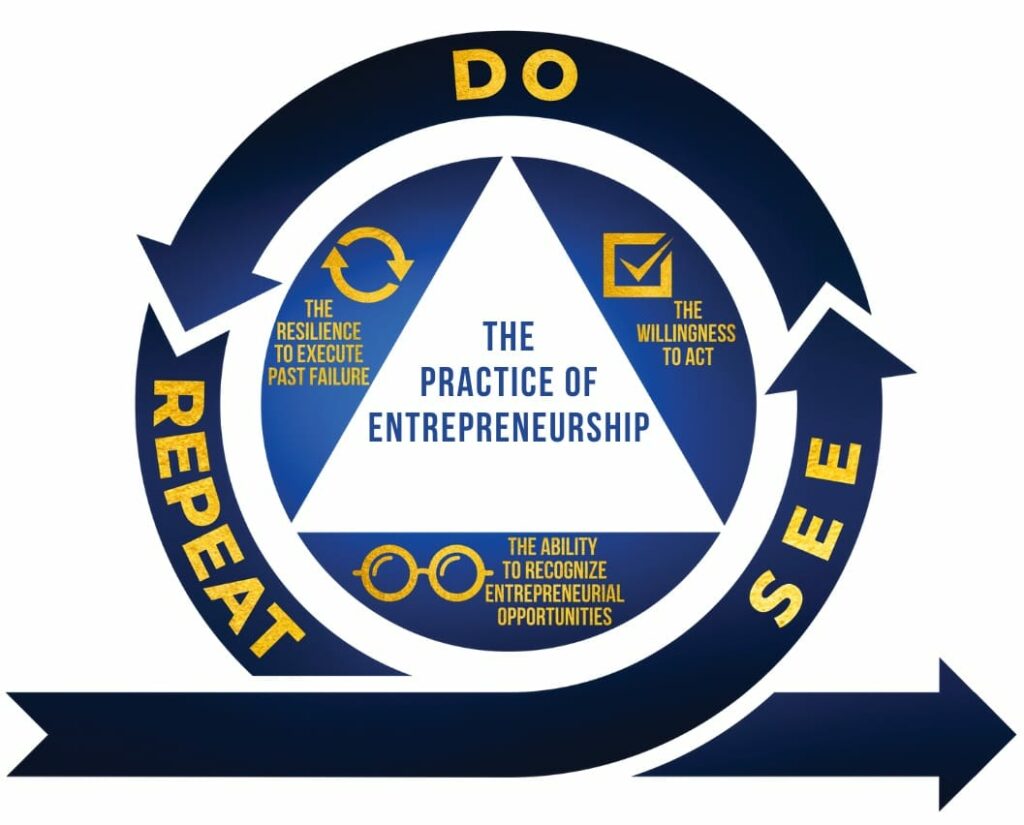 The See, Do, Repeat practice
Hear author Dr. Rebecca White speak about the See, Do, Repeat methodology and how it guides the reader in this book and in much of the work she does helping people build their entrepreneurial practices: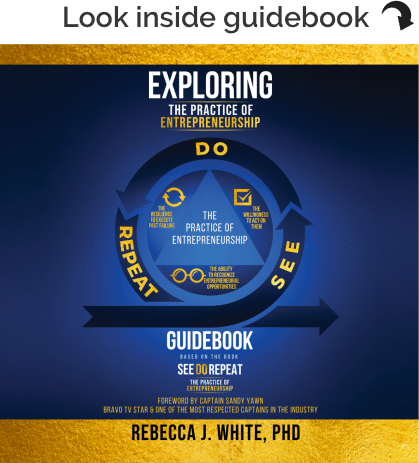 Deepen your practice with the guidebook
Based on the principles of self-explored learning, the Exploring the Practice of Entrepreneurship Guidebook offers exercises that can help you build the skills and abilities necessary to succeed to reach your goals.
Self-explored learning is empowering, deeply personal and customizable to meet the needs of any learner. This program includes assessments and suggested exercises you can put together in the way that works best for you – together providing a careful balance of just-in-time learning and learning that will help you transform over the long term. This is the kind of education entrepreneurs value the most.
Get the book in your pocket, on your device, or in your ears
Read See, Do, Repeat your way